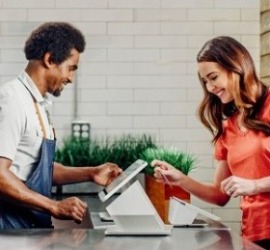 We understand locally-owned businesses because we are one!
From restaurants to retailers to the service industry, Citizens Bank has the tools you need to run your business better.
A Dedicated Local Bank Rep with Over 15 Years of Experience
No Early Closure Fee
Competitive Rates with Free Comparisons or a Rate Review
Quick Approval Time
Industry Leading Equipment
Next Day Funding
Accept and process payments online, in-store, or on the go!
Mobile Solutions
Cash & Credit Sales
Online Reporting
Online Inventory
Supports EMV, Magnetic Strip, Keyed, and Cash Transactions
Provides Fast and Secure Processing
In Person Solutions
All in One
User Friendly and requires minimal training to get your staff up & running
Inventory Management
Vendor Management
Online Solutions
Online Invoice Presentment & Payment System
State of the Art Security & Fraud Monitoring Tools
Recurring Billing & Reliable Payments
Fill out the form below or call our local Merchant Services Representative at 541-766-2228 for more information about how our Merchant Services programs can help you and your business succeed.
Back to Top