June 17, 2020

Citizens Bank Approves $94.9 Million in PPP Loans for over 730 Local Businesses
CORVALLIS – Citizens Bank approved more than $94.9 million in Small Business Administration (SBA) Paycheck Protection Program (PPP) loans. These loans provided over 730 small businesses affected by the coronavirus (COVID-19) with critical financial resources to retain or restore jobs for nearly 10,500 people in our communities.
Under the program's guidelines, banks have 10 days to close and fund a loan once it is approved by the SBA, but according to Gordon Zimmerman, President and CEO, Citizens Bank's dedicated staff was able to complete the process for many customers in just a few short days.
"Our staff has worked around the clock to go above and beyond for our customers and communities," said Zimmerman. "We have closed months of normal loan volume in just days."
While the PPP is a government sponsored program, funding these loans is the responsibility of Citizens Bank. Local deposits from the Bank's customers are providing critical support to our friends and neighbors throughout our communities during this Pandemic.  This is true community banking at its best.
"Our communities deserve our best and I assure you Citizens Bank and its employees will continue this meaningful work until program funds are exhausted," stated Zimmerman. "We remain committed to disbursing these funds within the guidelines of the program - fairly, equitably and timely. We will continue these efforts until every single loan is funded and the program is complete."
---
April 12, 2020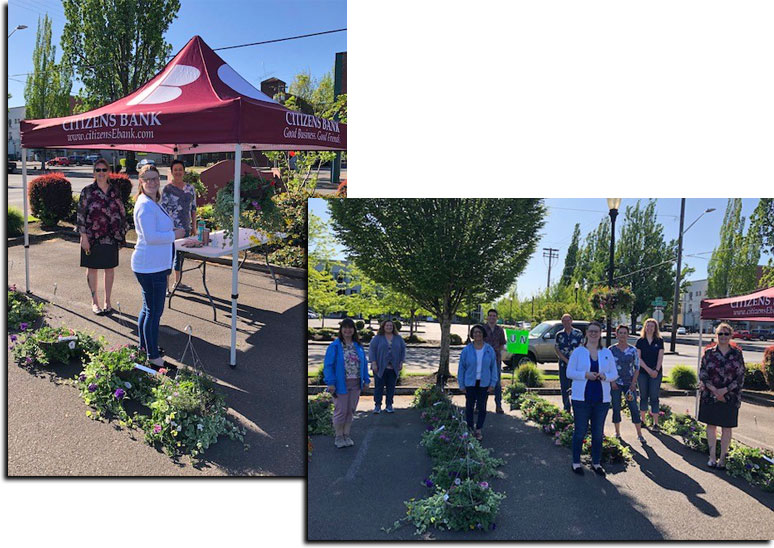 20th Annual Flower Basket Sale Raises $4,270 for the American Cancer Society 
McMinnville – For the 20th consecutive year, Citizens Bank and Country Garden Nursery came together to raise money for the American Cancer Society with beautiful hanging flower baskets. Citizens Bank sold 413 baskets, making $4,270.  This year did present some challenges with social distancing in place. We scheduled basket pick-ups throughout the week at the Branch, with Country Garden accommodating larger order pick-ups directly at the nursery.  Despite the obstacles, it was one of the best sales we have had!  People were thrilled to have a little beauty during this difficult time. 
---
December 16, 2019
2019 Community Applause Award Awarded to Roby's Furniture & Appliance
McMINNVILLE– During this year's Pacific Northwest Bank Leadership Symposium in Seattle, The Oregon Bankers Association (OBA) presented Roby's Furniture & Appliance ("Roby's") of Tillamook, Oregon with the 2019 Community Applause Award. The Community Applause Award is given to an Oregon business in acknowledgement of their significant service and contributions to their community.
Roby's was nominated by Kyle Faulk, Vice President and McMinnville Branch Manager at Citizens Bank. In his nomination, Faulk stated, "The Lewis family is driven by the desire to improve people's lives and the communities in which they live and work. They do not seek recognition, but they should absolutely be applauded for their commitment to making a positive change."
Roby's Furniture & Appliance is a retailer of home furnishings, appliances and mattresses. The family-owned business dates back to 1950 and is now in the hands of the third-generation brother–sister team of Ryan Lewis and Andrea Langeliers. Today, Roby's has locations in Astoria, Lincoln City, Newport, Florence, McMinnville, with two in Tillamook.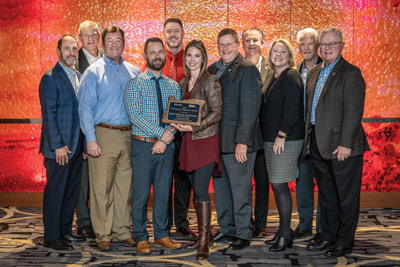 Despite the company's growth, a family atmosphere remains at Roby's. This means closing on Sundays so employees can be with their families. The company's "Roby's Cares" philosophy includes both community involvement and an emphasis on a fair and supportive environment for their 75 employees.
Employees are a big driver of where Roby's lends their support. They choose who and what to support during the company's annual Serve Day. On Serve Day, Roby's closes their stores and pays their employees their regular salary to help an organization in the community. In addition to manpower, Roby's covers the costs of supplies, furniture and appliances, depending on the needs of each project. On top of the activities associated with Serve Day, Roby's has helped countless organizations through direct donations or by donating items for fundraisers.
At the awards luncheon, OBA President and CEO Linda Navarro presented Langeliers and Lewis with the Community Applause Award, along with a $1,000 check payable to Juliette's House, a McMinnville nonprofit whose mission is to compassionately assess and provide support to abused or neglected children.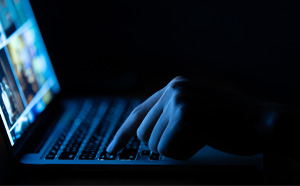 Beware of Coronavirus Scams
From false claims of a cure to email scams and phony websites, scammers are taking advantage of coronavirus fears.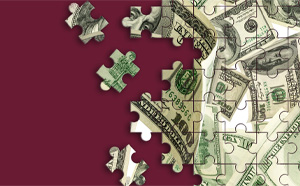 Citizens Bank Proudly Sponsors DevNW Membership Scholarships for Households Impacted Financially by Coronavirus
Citizens Bank is sponsoring scholarships for DevNW annual memberships which include free classes and financial counseling.
Back to Top