October 21, 2020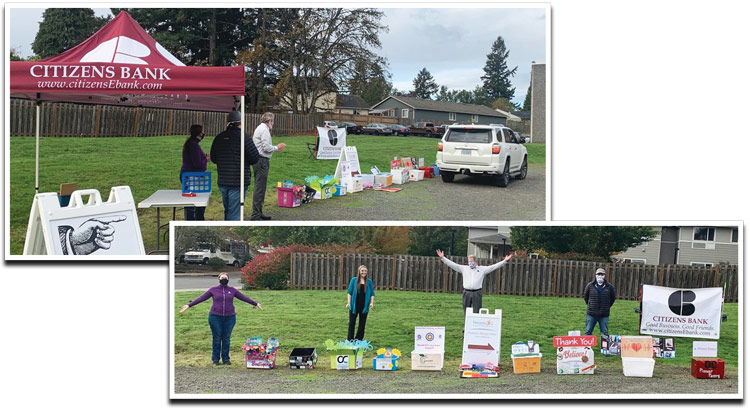 The Oregon City Branch Celebrates Community Bank Week with a Big Thank You to 15 Wonderful Civic & Community Organizations
OREGON CITY – On Wednesday, October 21st, Citizens Bank's Oregon City Branch welcomed customers and community members to their parking lot for a drive-through "vote" for their favorite civic organizations. The "voting" had a bit of a carnival game feel, with participants receiving three pennies which they attempted to toss into one or more large baskets representing each of our 15 wonderful community partner organizations, all from the safety of their own cars.

EVERY ORGANIZATION WAS A WINNER!  The Oregon City Branch donated a total of $2,000 with the community partner's basket with the most pennies receiving $400, 2nd place $300, and everyone else $100.

Once the voting was over and the pennies counted, Bloomin' Boutique took 1st place, Clackamas Volunteers in Medicine came in 2nd. This was a fun opportunity celebrate the Oregon City community and thank these great organizations for the work they do.

---
September 18, 2020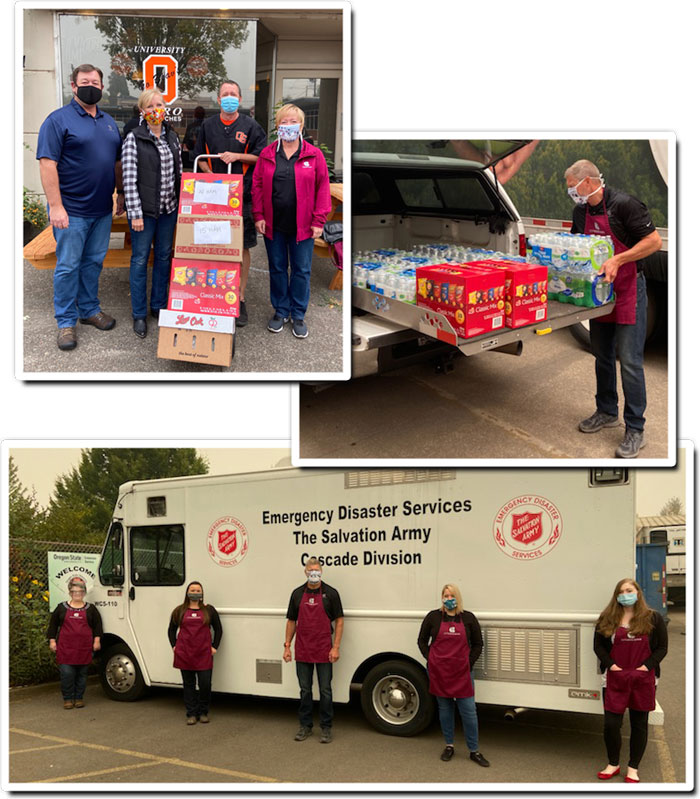 Citizens Bank and University Hero Provide Lunch to Evacuees & Volunteers
CORVALLIS – On Wednesday, September 16th, Citizens Bank partnered with our friend and neighbor, Corvallis restaurant University Hero, to provide lunch for the 495 evacuees and volunteers in Linn and Benton Counties.  Distribution to those in need was coordinated by the wonderful volunteers from Benton and Linn County Emergency Services, The Salvation Army and the Red Cross. 
"As the wildfire situation continues to evolve, it is humbling to see our communities rally around those in need," said Gordon Zimmerman, President & CEO.  "Our citizens are actively coming together to offer care and support for all who continue to be impacted by these fires."
---
August 26, 2020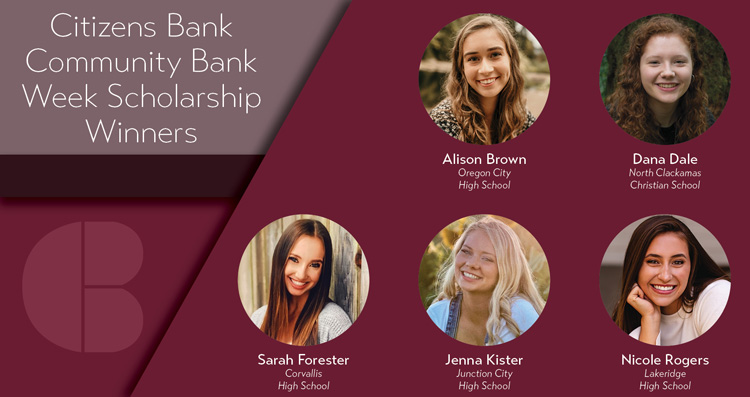 Citizens Bank Announces Scholarship Recipients
CORVALLIS – Citizens Bank has announced the winners of this year's Citizens Bank Community Bank Week Scholarship. Five outstanding local high school seniors were awarded $1,000 to support their respective college educations. Each awardee participated in a hosted visit of a Citizens Bank branch and was selected based on their essay describing what they learned about community banks and their benefit to local economies.  Below are this year's scholarship awardees:
Alison Brown, Oregon City High School

Dana Dale, North Clackamas Christian School

Sarah Forester, Corvallis High School

Jenna Kister, Junction City High School

Nicole Rogers, Lakeridge High School
"Citizens Bank is extremely proud to offer the Community Bank Week Scholarship for the fourth consecutive year to these amazing students from our communities," said Gordon Zimmerman, President & CEO.  "Once again the quality of the pool of applicants and their essays on community banking made selecting winners a challenging task.  We feel honored to have helped so many young people in our communities learn more about community banking."
---
July 22, 2020

Citizens Bank Approves $95.8 Million in PPP Loans for 748 Local Businesses
CORVALLIS – Citizens Bank approved more than $95.8 million in Small Business Administration (SBA) Paycheck Protection Program (PPP) loans. These loans provided 748 small businesses affected by the coronavirus (COVID-19) with critical financial resources to retain or restore jobs for over 10,500 people in our communities.
Under the program's guidelines, banks have 10 days to close and fund a loan once it is approved by the SBA, but according to Gordon Zimmerman, President and CEO, Citizens Bank's dedicated staff was able to complete the process for many customers in just a few short days.
"Our staff has worked around the clock to go above and beyond for our customers and communities," said Zimmerman. "We have closed months of normal loan volume in just days."
While the PPP is a government sponsored program, funding these loans is the responsibility of Citizens Bank. Local deposits from the Bank's customers are providing critical support to our friends and neighbors throughout our communities during this Pandemic.  This is true community banking at its best.
"Our communities deserve our best and I assure you Citizens Bank and its employees will continue this meaningful work until program funds are exhausted," stated Zimmerman. "We remain committed to disbursing these funds within the guidelines of the program - fairly, equitably and timely. We will continue these efforts until every single loan is funded and the program is complete."
"Don Zinter from Citizens Bank, along with my CPA and I worked a lot of hours over the weekend of April 17th to get the applications completed and submitted correctly. The game kept changing, the rules were vague, and we needed the money. We got our application submitted early and without the support of Don and Citizens Bank, we would not have received the money." 

Mark Carpenter
CEO, Columbia Roofing & Sheet Metal
Tualatin, OR
"Jon Johnson and Citizens Bank were beyond great.  I was late on a submission for round 1 and Jon was great at following up and making sure I got in to round 2 consideration. He even walked paperwork from the bank to the store for me to sign. They were just amazing."



Linda Hays
Owner, Hopscotch Toys
McMinnville, OR
---
April 12, 2020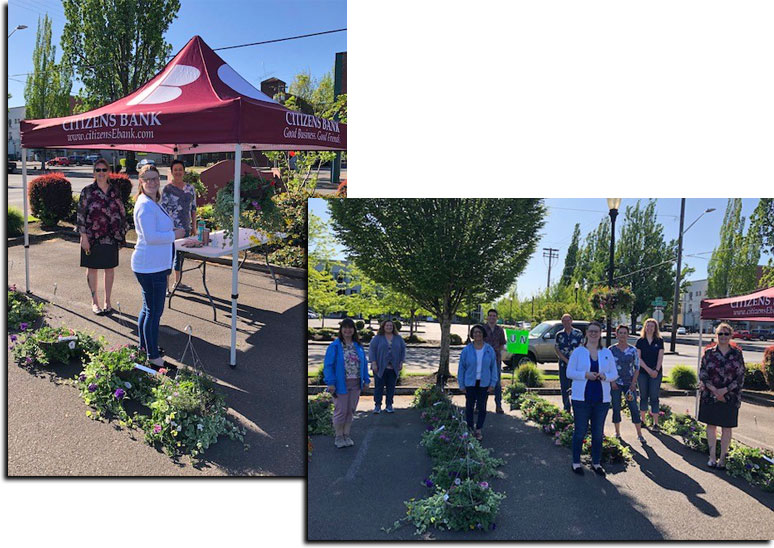 20th Annual Flower Basket Sale Raises $4,270 for the American Cancer Society 
McMinnville – For the 20th consecutive year, Citizens Bank and Country Garden Nursery came together to raise money for the American Cancer Society with beautiful hanging flower baskets. Citizens Bank sold 413 baskets, making $4,270.  This year did present some challenges with social distancing in place. We scheduled basket pick-ups throughout the week at the Branch, with Country Garden accommodating larger order pick-ups directly at the nursery.  Despite the obstacles, it was one of the best sales we have had!  People were thrilled to have a little beauty during this difficult time. 
---
December 16, 2019
2019 Community Applause Award Awarded to Roby's Furniture & Appliance
McMINNVILLE– During this year's Pacific Northwest Bank Leadership Symposium in Seattle, The Oregon Bankers Association (OBA) presented Roby's Furniture & Appliance ("Roby's") of Tillamook, Oregon with the 2019 Community Applause Award. The Community Applause Award is given to an Oregon business in acknowledgement of their significant service and contributions to their community.
Roby's was nominated by Kyle Faulk, Vice President and McMinnville Branch Manager at Citizens Bank. In his nomination, Faulk stated, "The Lewis family is driven by the desire to improve people's lives and the communities in which they live and work. They do not seek recognition, but they should absolutely be applauded for their commitment to making a positive change."
Roby's Furniture & Appliance is a retailer of home furnishings, appliances and mattresses. The family-owned business dates back to 1950 and is now in the hands of the third-generation brother–sister team of Ryan Lewis and Andrea Langeliers. Today, Roby's has locations in Astoria, Lincoln City, Newport, Florence, McMinnville, with two in Tillamook.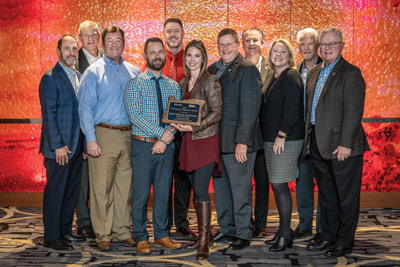 Despite the company's growth, a family atmosphere remains at Roby's. This means closing on Sundays so employees can be with their families. The company's "Roby's Cares" philosophy includes both community involvement and an emphasis on a fair and supportive environment for their 75 employees.
Employees are a big driver of where Roby's lends their support. They choose who and what to support during the company's annual Serve Day. On Serve Day, Roby's closes their stores and pays their employees their regular salary to help an organization in the community. In addition to manpower, Roby's covers the costs of supplies, furniture and appliances, depending on the needs of each project. On top of the activities associated with Serve Day, Roby's has helped countless organizations through direct donations or by donating items for fundraisers.
At the awards luncheon, OBA President and CEO Linda Navarro presented Langeliers and Lewis with the Community Applause Award, along with a $1,000 check payable to Juliette's House, a McMinnville nonprofit whose mission is to compassionately assess and provide support to abused or neglected children.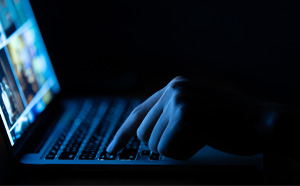 Beware of Coronavirus Scams
From false claims of a cure to email scams and phony websites, scammers are taking advantage of coronavirus fears.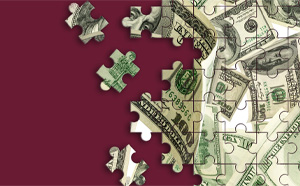 Citizens Bank Proudly Sponsors DevNW Membership Scholarships for Households Impacted Financially by Coronavirus
Citizens Bank is sponsoring scholarships for DevNW annual memberships which include free classes and financial counseling.
Back to Top