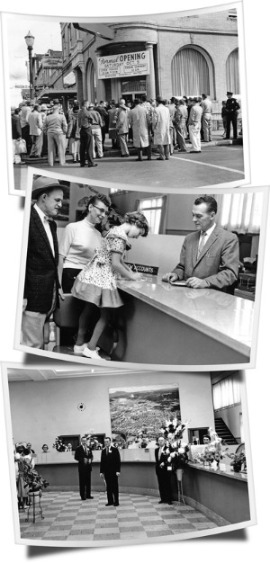 In April 1957, a small group of community and business leaders came together and voted to establish a home-owned bank in Corvallis. The organizers intended to fill a need for a friendly banking service dedicated to all of the community and to the building of a thriving local economy.
Less than six months later, on October 5, 1957, Citizens Bank of Corvallis opened for business. The Bank began operations with seven employees in a leased building on the northeast corner of Second and Madison Streets.
From those humble beginnings, Citizens Bank has blossomed to become one of the most successful and stable community banks in the country. Today, Citizens Bank comprises 15 Branches across 13 Willamette Valley Communities spanning eight Oregon Counties. Citizens Bank is now home to more than 175 customer-focused employees who provide comprehensive banking services to both individuals and businesses.
Since our 1957 founding, Citizens Bank has been committed to putting people first and to improving the communities in which we live, work, and play. We believe that our success is directly linked to the success of our customers and the overall health of the region we serve. When our customers succeed the Bank and the community will prosper as well. 

Culture
The foundation of any company's success is its culture.

Shareholder/ Annual Reports
Find our most recent financial reports and info about the Citizens Bank Code of Ethics
Back to Top